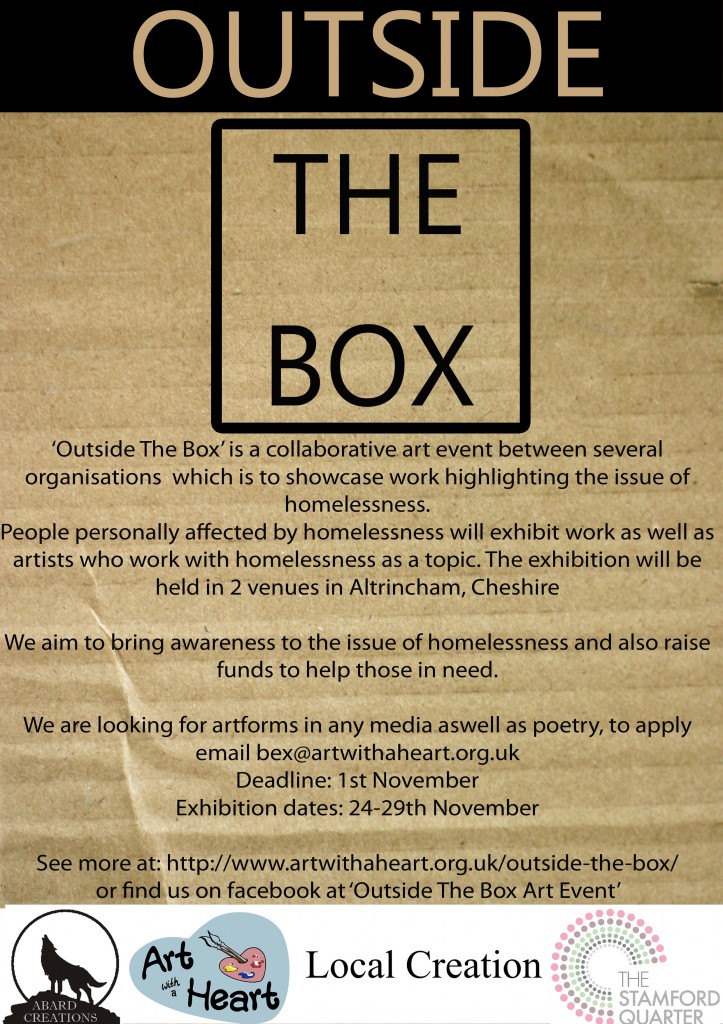 Outside the Box is an exhibition of art by people on the theme of homelessness. It is a collaborative project between Art with a Heart, Abard Creations and Local Creation. Running across multiple locations it is an exhibition of art (visual, poetry and performance) by people on the theme of homelessness.
John Wonnacott, Director at Local Creation, said:
'We are supporting this project because discussing social issues is an implicit role for much contemporary arts. We believe that homelessness needs to be talked about, by the 'haves' and 'have nots' and the many volunteers who work with them. One of our aims at Local Creation is to widen participation and exposure to the arts and to provide opportunity; this exhibition allows opportunity for homeless people, ignored on the fringes of society, to show their work, to build their confidence and to disprove assumptions made of them, and for the wider public to experience the creative outputs.'
The Altrincham events will take place in the Stamford Quarter and Central Way, with Nexus Art Café hosting the Manchester exhibition. We would like to thank the Stamford Quarter for hosting the art exhibition, curated by Jenny Jamieson, as part of her University Degree placement, with the support from Bex Wild of Art with a Heart.
Art is all about thinking outside of the box; trying new ideas and thinking outside of normality. This exhibition reflects this mentality whilst challenging the preconceptions associated with the homeless, with particular regards to their potential.
Bex Wild, Art with a Heart curator and exhibition assistant said:
'The artists in Outside the Box utilise a variety of mediums including film, photography, fine art and mixed media. Many of the artists are reacting to the concept of Homelessness but we do have a selection of outsider artwork by the homeless community on the streets of Manchester. The work reflects their own personal and emotional responses to their situation bringing to life their experiences on the street's.'
Thank you to Randalls for their kind donation and sponsorship of the Outside the Box event in Altrincham.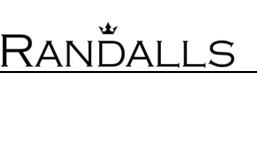 The Manchester events will take place in Nexus Art Café in collaboration with the Mustard Tree and the Booths Centre.
Ged Austin, Abard Creations said:
"We are very impressed and delighted by the work that has been produced. Our aim is to give a voice to the homeless and provide them with an opportunity that is otherwise nonexistent"
Locations
Altrincham
6 George Street, WA14 1SF, 23- 29 November, 11am to 4pm

Local Creation, Central Way, WA14 1SB, 23-29 November, 11am to 4pm
Manchester
Nexus Art Cafe, Manchester, M1 1JW 4th-29th November. 11am-6pm
Links to the facebook event pages are below:
Outside the Box Terms and Conditions