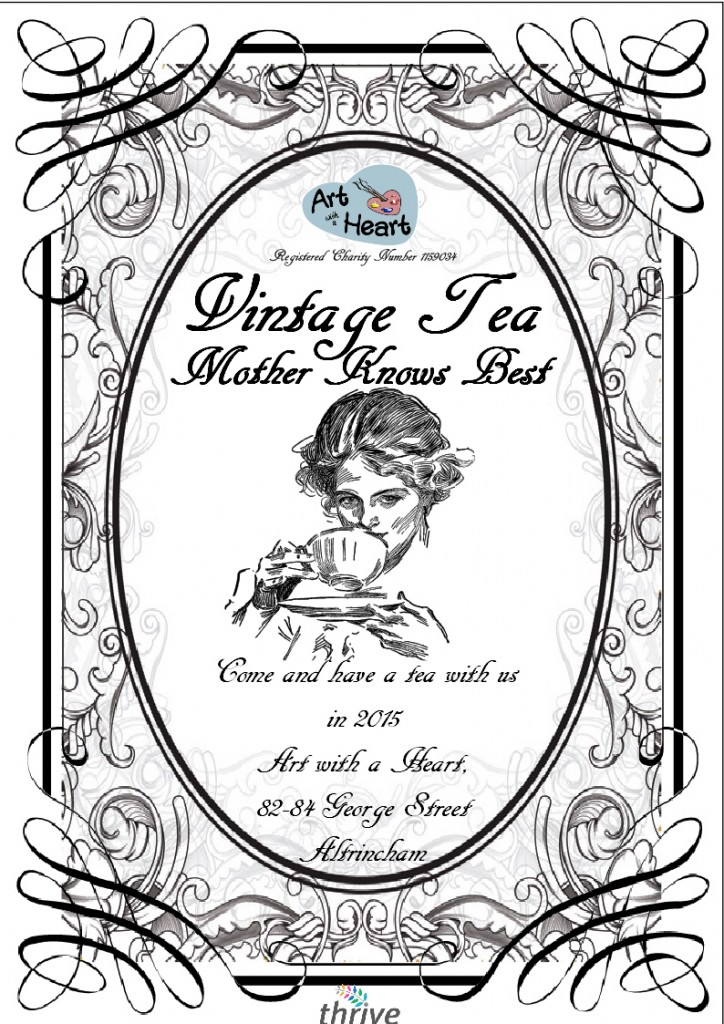 Art with a Heart are hosting a series of Mother Knows Best events as part of our 2015 outreach programme and intergenerational activities
In 2014, Art with a Heart successfully secured funds via the Thrive Voluntary Sector (VSG) to organise and host a series of vintage teas with a difference, targeting the young and old in Altrincham.
Vintage Teas are not a new idea, but at Art with a Heart we like to add something extra. As well as the tea aimed at the elderly and socially isolated there will be an oral history component for the students.
The anticipated outcome is reduced social isolation of the elderly by encouraging to visit the Centre; and improved employability of the young adults through skills development.
The events run from end of May to end of August in Art with a Heart. Places are limited to 30 guests per event, therefore attendance is by invitation only.
'Art with a Heart are working with a number of organisations on this project to identify some people, but they recognise there may be some individuals who are under the radar, they may not be known to the social services or care in the community providers. It is these individuals who will benefit most, and we need your help to invite them' said Karen.
Art with a Heart needs your help to identify the people who will benefit most from the event
Do you know an elderly individual who is on their own or may be interested?

Do you have a neighbour; know someone in your area that does not get out much? These are the people we would like to invite, places are limited to 30 per event, but there are 12 events throughout the year.

Do you know a student, history, sociology, a young adult or school  who could benefit from participating in the oral history component?

Please get in touch via our comment form below or via contact@artwithaheart.org.uk and we shall send them an invitation to the next available event.
Project Update
The first event took place on Sunday, May 24, 2015. The delicious food served was kindly sponsored by The Roebuck, Altrincham. If you would like to sponsor the refreshments at one of the other Vintage Teas then please email us at contact@artwithaheart.org.uk
We will be publishing a video montage of Mother Knows Best events on our YouTube Channel and the link will be posted here at the beginning of September. In the meantime following is a selection of photographs from the various events.
Ocean Finance have contacted Art with a Heart regarding Team Ocean Makeover competition. If we win they will supply 10 volunteers to help with our project as well donating £300 towards the costs of the teas. The volunteers will transform Gallery 2 into a Vintage Tea Room, meet and greet, serve the refreshments on the day, and that wonderful task at the end of the day clean and wash
Running 12 regular teas is a huge commitment, both on time and resources. The Team Ocean Volunteers will supplement our own team of volunteers therefore sharing the workload. You never know, they may even enjoy volunteering at Art with a Heart so much that they may want to give their time on a regular or ad hoc basis in support of our busy exhibition and events schedule.
For the competition, we have to write a 250 word blog on our  website: telling them about our worthy cause, why it's so special and  deserving, how they can help and what it means to us. We email the link for the blog to them at competitions@thinkmoneygroup.com. The entry is then judged. The more blogs, the greater our chances, so if you are a blogger please blog about our Mother Knows Best Vintage Teas and email them the link.
The next tea will be on Sunday, June 14, 2015. It is by invitation only so please let us know if you know any individuals young or old who would like to participate.
How to support this event
Karen Wroe, Project Director of Art with a Heart said: ' Engaging in the Arts and Heritage is not only a cultural experience but it is known to have beneficial effects on the health of the participants. Art with a Heart has become a place to visit by families and the elderly and we feel that these events will encourage more people to enjoy the free Arts and Heritage Centre in Altrincham'.
Art with a Heart is also looking for the local community and businesses to help to make these events a success. There are a number of ways you can assist:
Sponsor a Vintage Tea. We will promote your support on their website, social media and the invitations.
Donate the odd cups, saucers, tea plates, teapot for the Vintage Tea. These can be dropped off at the Centre during the opening hours on Wednesday through to Sunday, 10am to 5pm.
Volunteer to help make and serve tea on the day.
You can also help by donating to the VirginMoneyGiving campaign , and/or by participating in our sweepstake for a Peter Dawson original painting donated by the artist.
Project Sponsors
Art with a Heart would like to thank and recognise the following sponsors:
The Roebuck, Altrincham for sponsoring the event on Sunday, May 24

Thrive, Trafford