Building on the success of the previous two Trafford Schools Open, Art with a Heart was pleased to present the Trafford Schools Open 2014.
The Trafford Schools Open is an exhibition of students in their final year of GCSE, AS and A2 (or equivalent) in Visual Arts studying at schools throughout the Trafford area.  GCSE students were eligible for the visitors choice award and there were 6 awards on offer for A Level and BTEC Equivalent students, including the 'Inspired by…. Regeneration' award sponsored by Watling Gate Restoration Group. Other awards sponsored by HobbyCraft, Cresta Court Hotel and Stamford Quarter.
We had 8 schools enter this years Trafford Schools Open with 47 students submitting over 80 pieces of work for consideration. Overall we had over 2,200 visitors who came along to see the exhibition and 294 votes cast in our visitors choice award.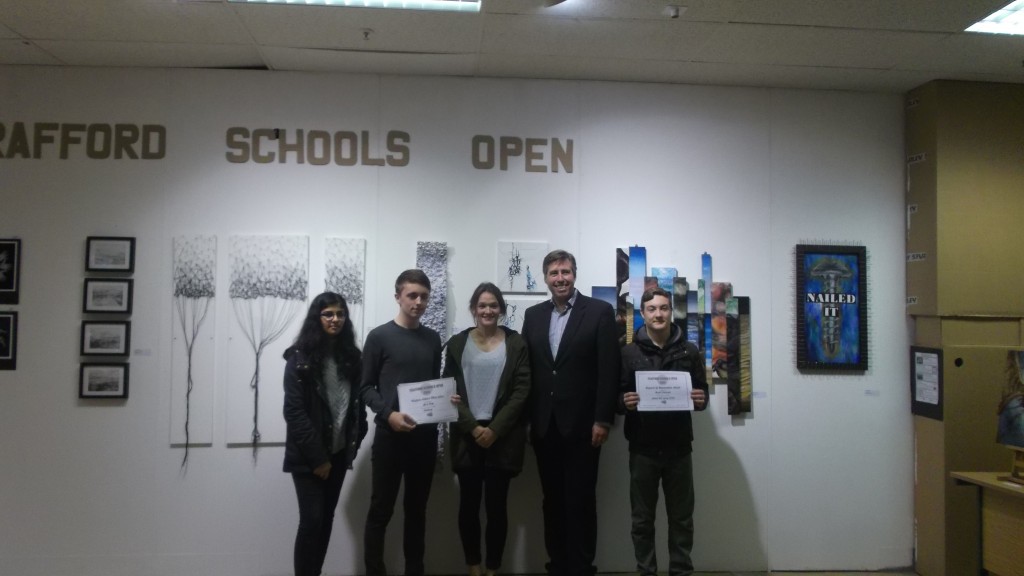 The Winners of the Awards were:
Traditional Award: Ravail Khan for Architecture in Abstract (AGGS)
Alternative Media: Maddie Dynevor for Landscape 1-4 (Trafford College)
Inspired by Regeneration: Daniel Cartwright Student Pod Living  (Wellacre)
Visitors Choice First Place: Jack Pegg for Pathway(ABGS)
Visitors Choice Second Place:  Catherine Wilson for Spiral Waves  (Trafford College)
Visitors Choice Third Place: Lily Jacobs for The Pack (AGGS)
Schools Award: Altrincham Grammar School for girls
Congratulations to all those who took part.