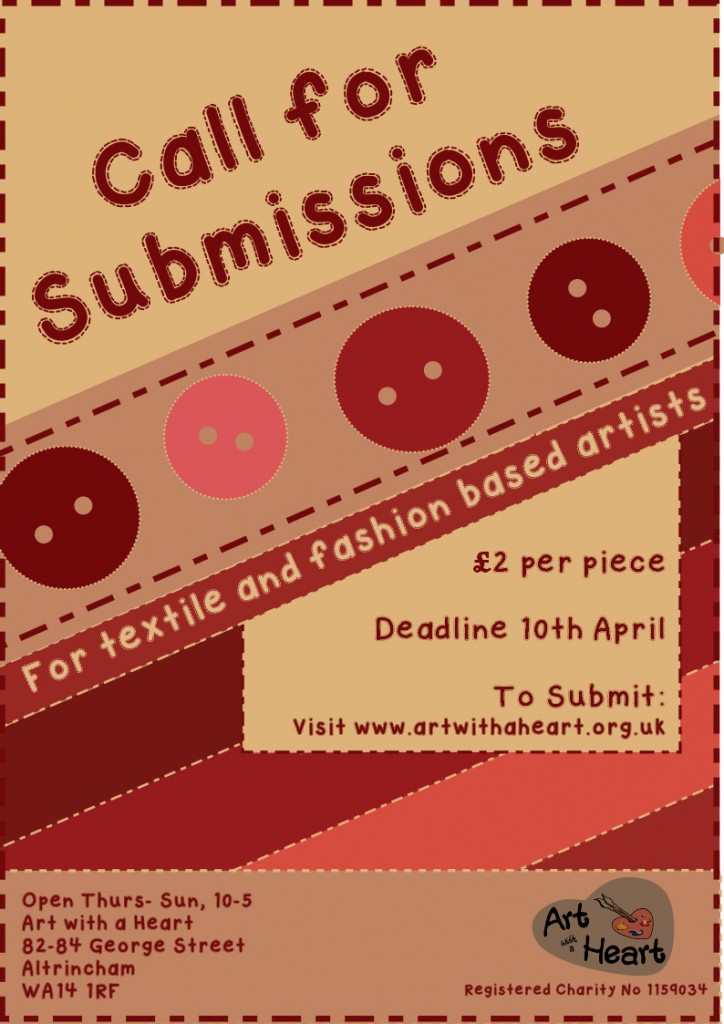 Calling all artists!
We are seeking textile and fashion artists to take part in our May-June exhibition 'Connecting Threads'.
Deadline: Sunday 10th April 2016
Connecting Threads aims to be a showcase of the variety that exists within contemporary textile and fashion design. Textiles as a medium is not a new concept but it is one that is ambivalent; being situated on the borderland between art and craft. This exhibition aims to show how textiles can be considered another form of fine art and to question the value of the handmade in the current digital age.
How to enter
There are three ways to enter:
 Artists can apply online here
Download an Entry Form and email it to bex@artwithaheart.org.uk
Collect a paper form from Art with a Heart.
Please read our Terms and Conditions before entering.
Artists can enter up to three pieces for consideration. If entering more than three then please email your application rather than using our online form.
Specifications
Artwork can be on any theme as long as it is an item that fits under the catergory of 'textile' or 'fashion'.
Selected artwork will need to be labelled with the 'Artists Name, Title, Medium' – this can be done via a luggage tag or adhesive label.
Artwork unframed will be displayed via clips, pins or magnets. Please specify if you have any particular hanging requirement.
Fashion items such as dresses, jackets, and tops will be displayed on hangers unless the artists provides an alternative source eg: mannequins.
Artists of any age, gender, culture, background or profession can enter.
Cost
It is £2 per piece to enter. This can be paid here.
Important Dates
Call for entries starts- Sun 21st February
Deadline- Sun 10th April
Notification if entry has been successful- Sun 17th April.
Delivery dates- Thurs 21st April-Sun 1st May
Exhibition Duration- Thurs 5th May- Sun26th June