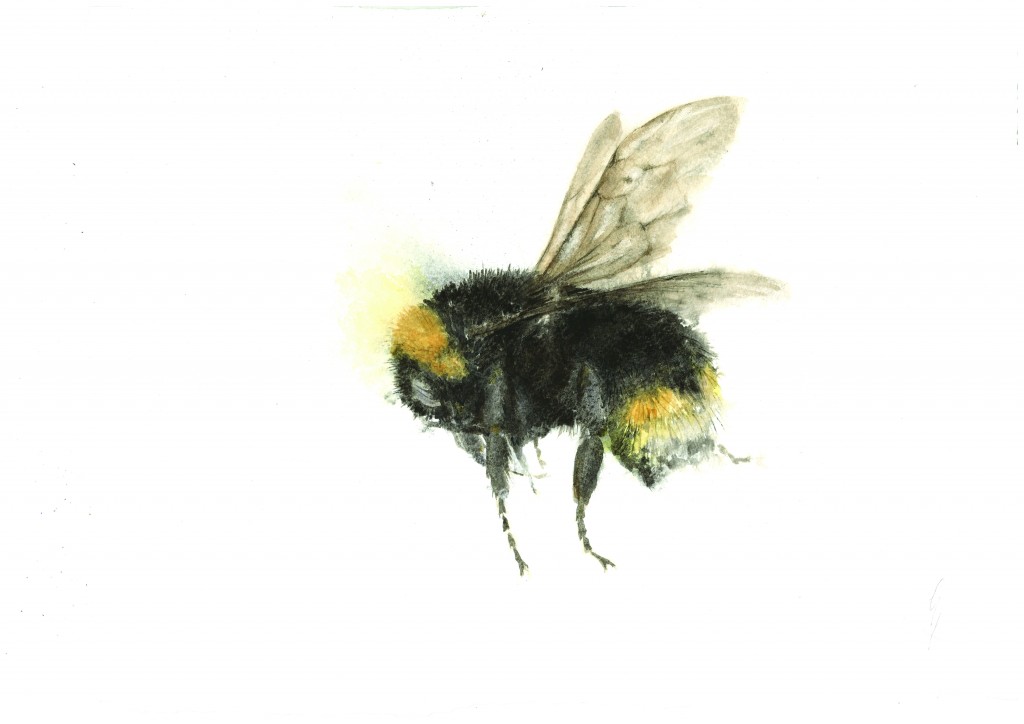 Carolyn Birchall is an artist based in Kent who graduated from Fine Art at UCA Canterbury in 2013. Previously Csrolyn spent many years working as a garden designer. This experience of immersion in design composition, dealing with space and enclosure, using formal considerations and working with nature, has provided a strong foundation for her artistic practice.
Bee IV
"There seems to be so many dying bees around the garden and although a little honey revives some, most will fade and die anyway. I aim to invoke a sense of the pathos inherent in the natural cycle of life and death; the struggles of the living and the inevitability of their end. This 'small passing' provides a visual metaphor which invokes a universal dialogue about strength and vulnerability. My painting of this tiny but vital creature aims also to highlight the plight of our bumble bee. Its numbers are in decline where a change in farming techniques means fewer wild flowers. I explore the fragility of the subject through the instability of the wet surface and its effects on the marks made. Blurring, dissolving, disintegration and softness, the unpredictability of natural forces and the disruption of the cohesion in the pigments, reinforce this vulnerability. Sharpness of line, depth of tone, intensity of pigment express strength.
In my work I examine the power in the dialogue between mark and space. The unpainted areas of the page speak of borderless, boundless sublimity, their emptiness breathing life and strength into the image. Reciprocally; the image energises those empty spaces. In all its morbid beauty, this work enters the arena of the sublime.