AWAH Art Trading Cards swap is organised by and exhibited at Art with a Heart
 ARTIST TRADING CARDS are miniature works of art created on 2 ½ X 3 ½ inch or 64  X 89 mm card stock.
They are original works of art and, more importantly,
self-produced. Anybody can produce them.
Cards and created and then traded with others, either at TRADING SESSIONS or wherever you meet another  ATC trader in person or online.
Art with a Heart has taken this concept further by displaying the current Trade and AWAH Collections in the Arts and Heritage Centre during the trade period.
—————————————————————————————————————————————-
Current ATC Open Call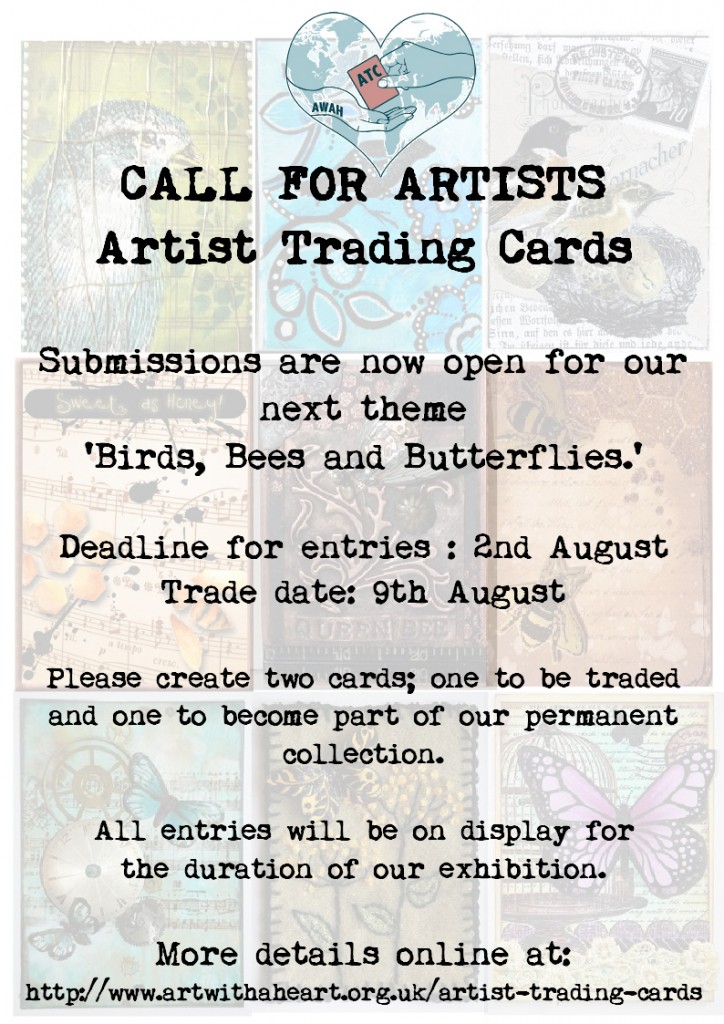 Birds, Bees and Butterflies
Cards to be sent to Art with a Heart from May 16th to November 22nd  2015
 Number of cards: maximum number is 2
Number of players: Unlimited*
Media: Any including digital (no stickers)
Theme: Birds, Bees and Butterflies
Trade Date: December 1st 2015
*Please register your intention to trade to  contact@artwithaheart.org.uk and we will email you the entry form to be completed and returned by November 22nd 2015
Requirements
Each card Must  measure 2.5inch by 3.5 inch
Each card should be sent in a plastic sleeve to protect it in transit and while on display in Art with a Heart
Each card must contain the following information on the reverse
Name of Person
Name of the swap –Birds, Bees and Butterflies
Date Card Created
Name of Host – Art with a Heart
Country and Place of Origin
and any other information you would like to share.
Delivery and Postage Costs
 Cards  can be delivered in person or posted to the Arts and Heritage Centre ( 82-84 George Street, Altrincham, WA14 1RF) with a SAE for the return trade**.
Entry Form to be completed by trader, with details of each card to be traded
**traded cards can only be sent to you if a SAE is sent with the trade.
For INTERNATIONAL participants please send an envelope WITH YOUR address on and make a payment to cover the cost of the postage  via Paypal***
***PAYMENT by Paypal to the value of £2.00 http://www.artwithaheart.org.uk/donate-to-art-with-a-heart/
Further details
Art with a Heart will confirm receipt of trade, photograph, publicize on social media and on our website and display in Art with a Heart ATC Area,
Create 2 card in the theme and you will receive 1 card back in trade. The other will be on permanent display in Art with a Heart and on our website. This is to help build the Art with a Heart Collection to help promote ATCs in the UK
The design can be made either horizontal or portrait.
We expect to get participants with varied abilities. We will do our best to trade like for like however
please be aware that what you get back may not be exactly the same as what you sent in.
Cards will be on display in the art gallery as part of the exhibition from June onwards and will be swapped out on August 09.
—————————————————————————————————————————————-
Previous ATC's
In Bloom
Journey and Transport
Halloween and Autumn
Water and Reflections