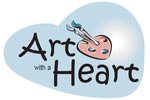 Art with a Heart is a constituted not for profit organisation formed by Karen Wroe, Project Director in 2012. It is the Arts and Heritage Centre in Altrincham, set up for the benefit of the local community.
Mission: 
To advance the arts and heritage in Altrincham, in particular by the provision of an arts and heritage centre and the provision of events, exhibitions and displays.
To help young people aged 16-24, especially but not exclusively through leisure time activities, so as to develop their capabilities that may grow to full maturity as individuals and members of society.
Chairman and Project Director: Karen Wroe
Treasurer: Keith Oulton
Other Trustees: Michael Armstrong and Steve Marsden
Other Members of the team : Bex Wild and Natasia Rubin
Copy of the Consititution is available on request by sending an email to the AWAH Chairman.
Art with a Heart also coordinated the Art with a Heart Group, Alty in Bloom Entry for the North West In Bloom Competition in 2013, achieving Bronze and is an active part of the Altrincham in Bloom team, Altrincham Rotary and Altrincham Community Team.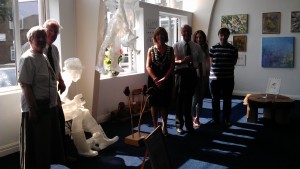 Judging in Art with a Heart, July 18, 2013
Sponsors include